Anime Expo adalah sebuah acara satu tahun sekali dimana beragam konser, pemeran anime serta manga akan tampil selama tiga hari untuk mempromosikan karyanya ataupun sekedar berjumpa dengan para fans.
Seperti tahun-tahun sebelumnya Bushiroad, sebagai salah satu publisher anime serta game terbesar di negeri sakura tersebut akan kembali ikut berpartisipasi dalam acara kali ini. Seperti tahun sebelumnya, Bushiroad juga akan kembali menghadirkan Bang Dream! pada acara kali ini.
Namun, tidak seperti tahun sebelumnya, kali ini Bang Dream! juga akan melakukan kolaborasi dengan Revue Starlight yang baru-baru ini memulai debutnya sebagai anime dan juga game RPG berjudul Revue Starlight Re LIVE!.
[ Anime Expo 2019 Update ]
There has been a schedule change for the Bushiroad Panel!

Catch special guest appearances by Aimi and Haruka Kudo! at the special panel called BanG Dream! Girls Band Party! and Revue Starlight Re LIVE Special Panel during Anime Expo! https://t.co/PNL3AmBJpp

— BanG Dream! GBP (@bangdreamgbp_EN) June 14, 2019
Pada acara tersebut juga nantinya akan hadir kedua seiyuu dari karakter Hikawa Sayo dan Toyama Kasumi sebagai special guest, Aimi dan Haruka Kudo akan ikut memeriahkan acara tersebut pada 4 Juli 2019 nanti.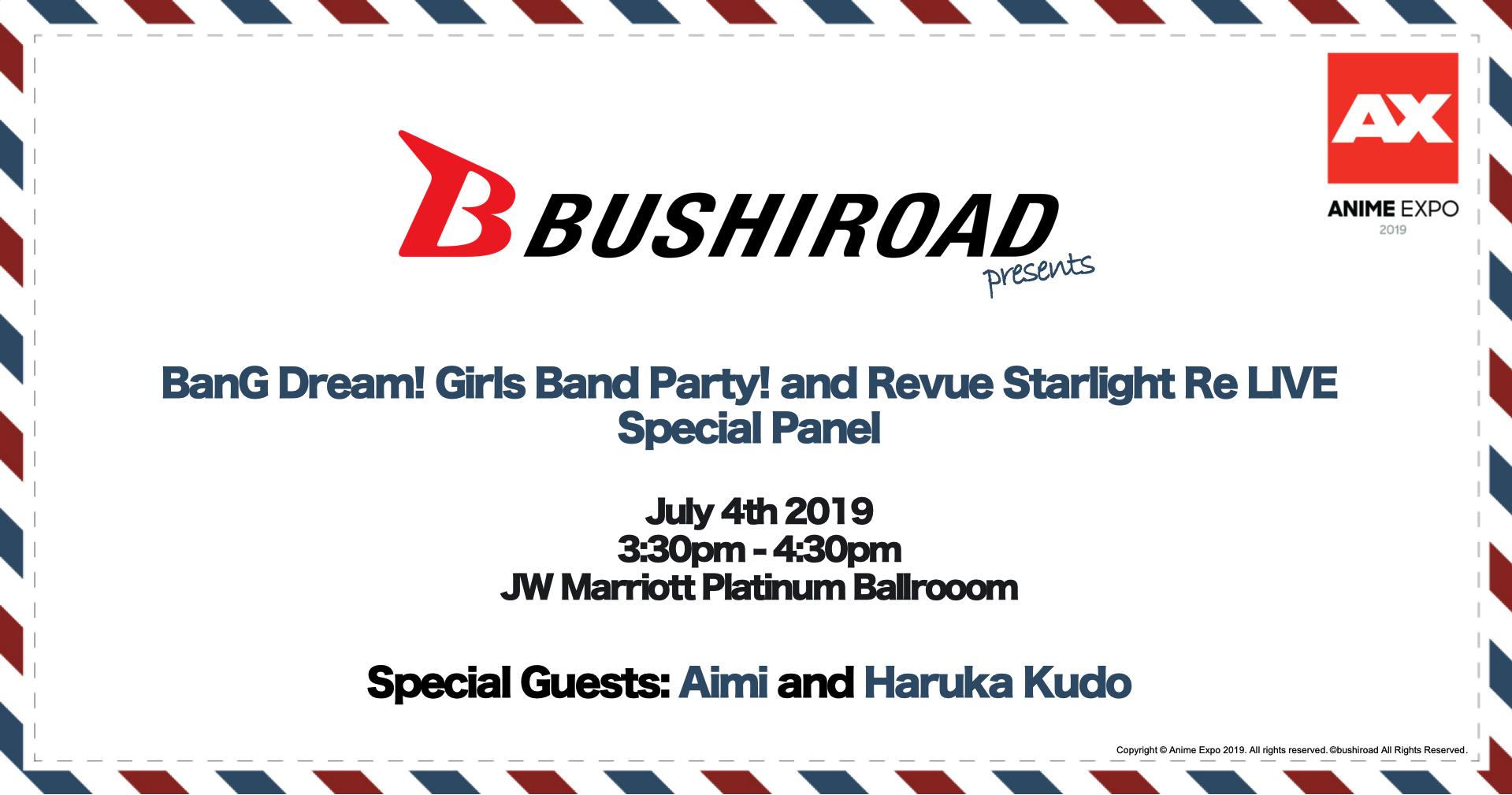 Selain itu, kita juga akan melihat beragam konser dari Band franchise dari Bandori! seperti, Roselia, Poppin` Party, Hello Happy World!, Pastel Pallet`s, dan juga Afterglow pada acara tesebut, yang juga akan diramaikan oleh kehadiran franchise Revue Starlight.
Editor: Panji Pangestu