The Chongqing Major merupakan turnamen tingkat Major dari Dota Pro Circuit 2018 – 2019 yang diselenggarakan oleh Starladder dan ImbaTV. Dengan 16 Team dan total hadiah senilai $1,000,000 USD akan diselenggarakan pada tanggal 19 Januari sampai 27 Januari 2019.
Mulai dari drama pergantian pemain hingga sanksi – sanksi pemain dan organisasi yang dilontarkan Valve, berikut rangkuman The Chongqing Major yang perlu kamu ketahui!
Dimulai dari tidak hadirnya sang superstar dari Team Liquid yakni Amer "Miracle-" Al-Barkawi, melalui akun official twitter Team Liquid sendiri menyatakan bahwa Miracle- tidak bisa hadir karena adanya masalah pribadi. Hal itu justru bertentangan dengan isu yang beredar sebelumnya jika Miracle- bermasalah dengan visa. Team Liquid akan tetap bertanding dengan salah satu pemain dari ex-member dari Wings Gaming (The International 2016 Winner) yakni Chu "Shadow" Zeyu yang saat ini berstatus inactive di tim Eclipse.
We would like to confirm that Miracle is unable to attend the Chongqing Major. He was excited to play; unfortunately, an urgent personal matter occurred at the last minute. We request that fans respect his privacy during this time, and we will provide updates when possible.

— Team Liquid (@TeamLiquid) January 16, 2019
Begitu juga dengan salah satu pemain The Pango yang sebelumnya adalah team NoPangolier, Bakyt "Zayac" Emilzhanov memiliki masalah visa sehingga dia hadir dan digantikan dengan Rinat "R1nater / KingR" Abdullin.
Увы, не все новости сегодня приятные ?

На #TheChongqingMajor, вероятнее всего, мы будем вынуждены играть с заменой из-за проблем с визой у @BEmilzhanov.

Сегодня @R1nater вылетел в Китай к остальным игрокам в качестве возможной замены.

Подробности будут позже. #ForThePango pic.twitter.com/3C6LsyppjI

— The Pango (@the_pango) January 16, 2019
TNC Kuku & The Chongqing Major
Sesuai statement resmi dari Valve terkait permasalahan TNC Kuku. Valve mengambil langkah untuk mem-banned TNC Kuku dari turnamen Chongqing Major ini. Sebagaimana kesalahan yang dilakukan Kuku pada saat pub-match dan mengucapkan kata – kata yang sangat menyinggung.
Klarifikasi yang dibuat oleh Valve menyatakan, Kuku tidak dibanned oleh pemerintah Cina. Meskipun masalah yang ditimbulkannya menimbulkan banyak perspektif, Valve tidak menanggapi bahwa masalah tersebut dapat menimbulkan ancaman serius di dunia nyata. Valve juga menilai, TNC seakan – akan menutup – nutupi masalah ini dan tidak ada tanggung jawab yang layak oleh manajemen tim karena hal tersebut dinilai sangat berbahaya untuk komunitas Dota2 sendiri. Valve tidak akan memberikan pinalti baik dari DPC atau TNC sendiri, melainkan hanya tidak memperbolehkan Kuku untuk bermain dalam laga Chongqing ini.
We would like to inform our community that Kuku has decided to take a personal leave. Just to clarify, Kuku is still part of our roster.

Ryoyr will be standing in for the meantime. Thank you.

— TNC Predator (@TNCPredator) December 8, 2018
TNC Kuku yang mengalami kecaman ini memilih untuk menjadi pemain inactive untuk sementara waktu. Tidak keluar dari manajemen TNC dan sebagai pengganti di laga Chongqing Major ini, Ryo "ryOyr" Hasegawa akan menjadi pemain inti TNC Predator saat ini untuk waktu yang tidak ditentukan.
Pasca kemenangan J.Storm dari North America Qualifier membuahkan hasil tiket bermain di Chongqing Major yang dilakukan Milan "MiLAN" Kozomara. Milan memilih untuk keluar dari J.Storm dan digantikan oleh Clinton "Fear" Loomis.
Dengan begitu, roster J.Storm untuk Chongqing Major adalah :
David "Moo" Hull
Jonathan "Bryle" De Guia

Sangdon "FoREv" Lee

Clinton "Fear" Loomis
Taewon "March" Park
Coach: Jimmy "DeMoN" Ho
PAIN GAMING & Regional Qualifier
Setelah permasalahan TNC Kuku dianggap selesai oleh Valve, kini giliran Team Pain Gaming. Team Pain Gaming yang merupakan team yang memiliki base manajement asal Brazil ini terlibat permasalahan antara pemain dan pihak manajemen. Statement dari Quinn "CCNC" Callahan yang dibuat pada 21 November itu menyatakan jika dirinya tidak lagi berada di pihak manajemen Pain Gaming
Previous tweet was poorly worded whoops. Our roster is ritsu 1 me 2 lelis 3 Flee 4 kitrak 5 and we are no longer part of pain and are looking for a sponsor.

— Quinn Callahan (@ccncdota2) November 21, 2018
Meski sudah melakukan klarifikasi, para pemain tetap menjalankan permainan di qualifier tersebut. Alasan Valve untuk memberikan sanksi diskulafikasi pada Pain Gaming X yakni sebelumnya, pihak Pain Gaming menghubungi Valve untuk mengganti regional Pain X yang sebelumnya di South America menjadi regional North America. Permintaan tersebut dinilai tidak masuk akal oleh Valve karena dinilai akan memicu tidak berkembangnya komunitas Dota2 di daerah tersebut. Alhasil Pain Gaming X didiskualifikasi dan digantikan oleh Runner-up Thunder Predator.
Begitu juga dengan roster inti dari Pain Gaming sendiri yang memilih untuk hengkang dari Pain Gaming. Peluang ini diambil oleh pihak manajemen yang berdomisil di Amerika Utara yakni Chaos Esports Club.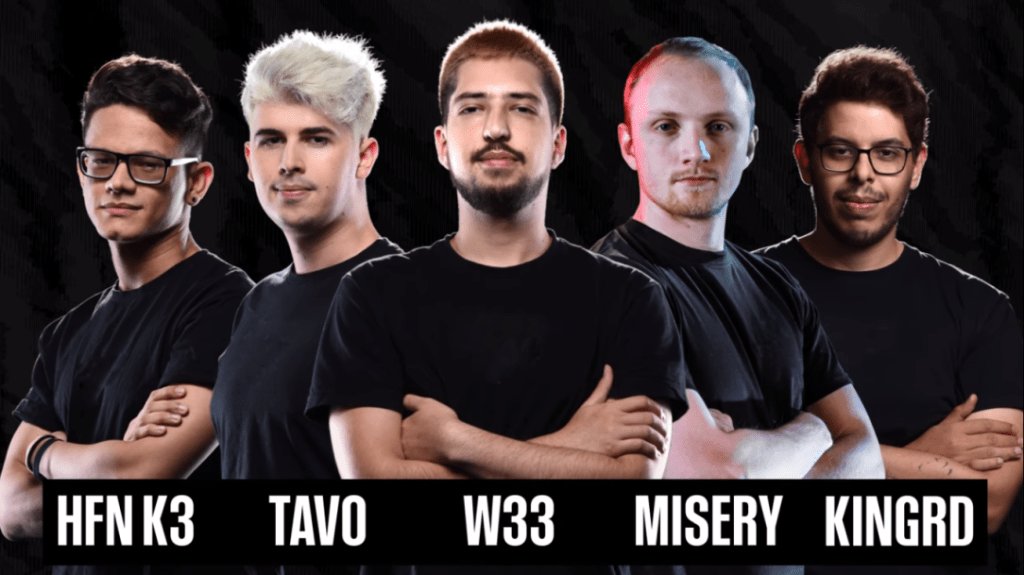 Dengan begitu, Pain Gaming saat ini tidak memiliki roster dota. Dan yang sebelumnya memiliki tiket bermain di Chongqing Major atas nama Pain Gaming kini berubah menjadi Chaos Esports Club dengan roster :
Rasmus "Misery" Filipsen
Aliwi "w33" Omar
Danylo "Kingrd" Nascimento
William "hFn" Medeiros
Otávio "tavo" Gabriel
Welcoming back 2 legends.

?? Rasmus "Misery" Filipsen
?? Aliwi "w33" Omar

& welcoming 3 hungry fan favorites.

?? Danylo "Kingrd" Nascimento
?? William "hFn" Medeiros
?? Otávio "tavo" Gabriel#CreateChaos

Introducing Chaos Dota 2 https://t.co/PMW01fgofy

— Chaos E.C. (@ChaosEC) January 16, 2019